List of all cities and destinations
How long does it take to drive from Prague to Berlin?
The distance to drive Prague
Berlin is approximately 365 km
Average travel time is 3 hours 34 minutes

Booking a taxi between Prague and Berlin
Transportation bookings are accepted with minimum 24 hours notice. Should you need to book the transfer with shorter notice, please call Martin: 00420 775 744 447 or send an email.
Booking, cancellation and payment policies in detail. (opens in a new tab)
Why Martin's taxi transfers:
Economical, comfortable, door to door transfers
Reliable, reputable and personal taxi service
Flexible, time efficient and cost effective
Premium German cars and minibuses: Mercedes Benz and BMW
Non smoking and air conditioned taxis
Fixed rates confirmed at the time of the taxi booking
Once you booked a taxi between Prague and Berlin, the rate is confirmed, the rate can not increase even if our rates go up
Taxis are insured above standard limits, all taxis have insured passengers' seats and baggage compartment
24/7 support in English on phone: 00420 775 744 447
Free taxi cancellation with a minimum 24 hours notice
Credit cards accepted in taxi: VISA, MASTERCARD, AMERICAN EXPRESS
Prague ↔ Berlin
Prague Berlin taxi is available door to door for flat rate all year round. Taxis are comfortable BMW 5 series, Mercedes Benz E class station wagons and Mercedes Benz Vito minibuses. Prague Berlin transfers are provided by English speaking drivers.
Martin's Taxi Transfers are based in Prague, but transfers are operated both ways from as well as to Berlin. Taxi transportation is flexible, early morning or late night departure is not a problem, we leave according to your schedule. There is never extra charge during holidays, night or special events. Price of the transfer is Euro 294€ (comfort class).
The comfort class - minibus transfer - is available for taxi between Prague and Berlin. The minivans can accommodate up to 8 passengers with the luggage. Price of the transfer is the same for one person as for the eight persons. Thus the transportation is the most economical for groups of 8 passengers.
The business class - limousine taxi - we drive Mercedes Benz E class and BMW 5 series (station wagons for extra baggage space), all taxis are insured, safe and clean.
All our vehicles have modern GPS, are non smoking, and are fully insured. In case our taxi is involved in an accident or if a vehicle breaks down, we supply standin vehicle and driver. If we fail to provide the transportation, we pay the alternative transportation used instead of our taxi service (does not count in cases of unpredictable occurrences e.g. road accidents (e.g. road closures, flooding), other natural disasters and impassable sectors, late booking amendments and similar).
Drivers are friendly and helpful. We drive via the most efficient and comfortable route. Drivers drive safely and with ease. Chauffeurs obey the traffic rules, use indicators and handsfree Plantronics headsets in case they need to contact the dispatcher.
Prague Berlin Shuttle Service
Since March 2016 we provide economical, cost and time efficient shared shuttle service between Prague and Berlin. Shuttle from
Prague to Berlin
is available daily at 9:00 am. Shuttle from
Berlin to Prague
is available daily at 3:00 pm. More information and destinations of Prague shuttle is available at
www.247-365.eu
.
Taxi from Prague to Berlin or taxi from Berlin to Prague is one of the top sellers. Berlin is only 3 hours and 45 minutes away from Prague and thus it is good a destination for full day trips as well as one way transfers. Often our customers take a chance to visit the Berlin Zoo (Tiergarten) on a day trip from Prague. Another option how to enrich the Prague Berlin transfer is to make a stopover in Dresden. We usually stop for four hours sightseeing. In Dresden we can organize a private guide or just let the clients on their own to reunite with the driver after they have done the sightseeing. On the way to /from Germany it is possible to visit other places of interest such as Bastei, Czech Swiss, Colditz, Gorlitz or even e.g. Magdeburg or Leipzig. Write us an email, should you be interested in tailor made transportation between Prague and Berlin.
Our past customers wrote:
Transfer from Berlin to Dresden via Colditz castle prison;
private tour in Dresden and Gorlitz
Hi Dear Martin, Just want to say thank you so very much for making the huge effort to drive us from Berlin to Dresden. We understand what an exhausting time it must have been for you but it meant everything to have you drive. Your new car is THE BEST but then you are the BEST DRIVER one could possibly dream of. I showed your photo to Elaine and she sends you her regards with great memories of our lunch in Cesky Krumlov a few years ago.
Your recommendation of Gunther Kieb in Dresden was absolutely superb. He had done much research into Derek's family and was able to take us to the villa where grandmother lived in 1901! Once there he produced a bottle of champagne, champagne glasses and we toasted the event in the middle of the morning in the street.
How cool and thoughtful was that!! He also had researched the train stations that Derek's great grand father designed and also took us there and they were magnificent. We drove down to Gorlitz which is the most stunning small town and well worth a visit. All in all it was a fantastic day thanks to your recommendation. Noone could have done more to help us and went to much effort with the research through his contacts. It was a marvellous day. We had such a great time in Germany!
Martin, a thousand thanks for your wonderful help. It was a joy to see you again and I just know we shall meet again. Kind regards
- Sallie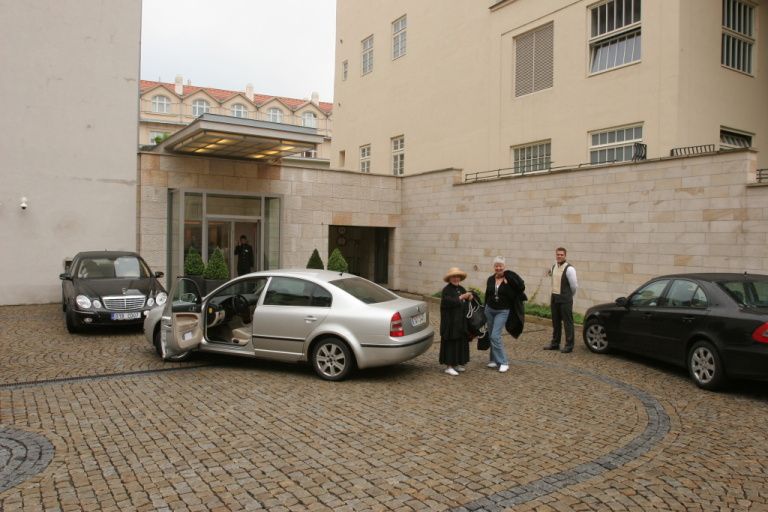 Transportation between Prague and Berlin, day trip from
Prague to Karlovy Vary via Zbiroh, Karlstejn and Pilsen
Dear Martin, thank you very much. Everything was fine. Now we arrived in Helsinki and going to Russia. Hope, I or my friends see You and your excellent drivers in future. Special thanks to driver Patrik!
- Maxim Sobolev
Raul Camara's transfer from Berlin to Prague
Dear Mr Martin, we arrived at the Ventana Hotel exactly at the specified time. Patrik was sharp with the pick-up time at the hotel in Berlin. He is a well educated person, amiable, corteous and above all, an excellent driver. Congratulations on having such an outstanding person working for you. You can rest assure that I will transmit these impressions to all my traveller friends.
- Raul Camara
Back to the list of all transfers